About Seann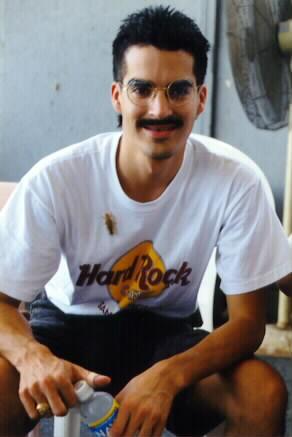 I am your basic blue jeans and T-shirt kind of guy. I am originally from Houston, Texas where my family still lives. I attended Texas A&M University where I majored in Computer Science. See my resumé for more info. I enjoy doing lots of different things, from computers to skydiving. I like to find humor in everyday situations. In 2003, Kate and I got married and started a life together. I am currently working as a senior systems analyst for EDS. My main areas of interest are UNIX architecture, clustering and disaster recovery. I enjoy Javascript programming, and have written a slide show program entirely in Javascript called JSviewer. Two smaller code samples I have written are a random lottery number generator, and an investment calculator. I have also written a web based alpha-numeric pager utility that is my best usage of Javascript and CGI programming. If you are interested in seeing it, drop me a line. Last but not least, I enjoy using the Internet. I have been on the Internet since my first computer science class in 1987! I guess you might say that I am addicted to the Internet because hardly a day goes by that I don't use it. I consider myself very fortunate because I have a job doing what I enjoy.

Even though I enjoy my job as a computer professional, I do not consider myself to be a total geek. I'm just a regular guy that does some regular guy things. The most extreme thing that I have done so far is go skydiving. I wanted to go skydiving before I turned 30. There's nothing quite like jumping out of a perfectly good airplane to give you a new perspective on life. Seeing the curvature of the Earth from 12,000 feet is an awesome sight. My first jump was an Accelerated Free Fall (AFF). It is fairly intense for a first jump, I now recommend that new people go tandem on their first jump.

The Stock Market has interested me since I was 16 when I first learned about it in my Economics class. While in college, I wrote a multi-user stock market simulation program called Gigabucks. I applied all of my programming skills to writing that program. Gigabucks was written in Pascal for VAX/VMS computer systems. I am now investing in growth mutual funds and a few individual stocks. I have written an investment calculator that illustrates the power of compound interest. Simply investing $100 per month will give you $100,000 in about 20 years, and $1 MILLION in about 40 years. (using 12% return on investment) If I wasn't doing computer work, I would probably want to be a financial planner. If you would like any ideas on how to get started in investing, let me know.
Lotteries have also piqued my interests. A few years ago, I matched 5 out of 6 numbers on the Texas Lottery with a $1 quick pick. The payout was about $1,000 after taxes. Not enough to get rich, but enough to get my attention. I started working on a program to analyze the lottery and look for trends and try to predict which numbers will come up next. To date, the best I have done is 4 out of 6. The numbers that I have been able to generate so far are no better statistically than random quick picks. But the analysis is still interesting to look at. Just so you know that I don't obsess about the lottery, I only play for the entertainment value, and I usually only spend $1 per drawing when I do play. Remember, you can't win if you don't play.
I'm not a big sports fan, but I do keep up with sports from time to time to make conversation. There are a few sports that I do like to participate in though. These are frisbee, snow skiing, ice skating, billiards, bowling and bicycling. (Is skydiving a sport?) I love playing frisbee. My brother Russell and I have been playing frisbee since we were kids. We still play when we can, and we usually play hard when we do. I occasionally play frisbee golf, but I still use my 175g Wham-O frisbee because I can't stand those golf discs. As for skiing, I am an intermediate skier that will occasionally go down a black diamond trail. Billiards and bowling are nothing to write home about. And bicycling is just to get some fresh air.
Photography is another hobby of mine. Most of my best pictures are on this web site. I enjoy travelling and taking pictures. I collect shirts from different Hard Rock Cafe's around the world. Of all the various Hard Rock Cafe's that I have been to, I like the one in Dallas the best. The one in Dallas used to be a church.
Nuclear WarTM is one of my favorite card games that I like to play with my friends. It was originally designed by Doug Malewicki during the Cold War in 1965. It has been updated a few times and is a pretty cool game. It is now available from Flying Buffalo, Inc. I started playing Nuke War while I lived in the dorms at Texas A&M. The object of the game is to try to be the last country standing with at least 1 million people. More often than not, there is no winner because everyone dies (which is what would happen in real life, that's the lesson the game is trying to teach.)
Cooking meats is a favorite past time. I am primarily a carnivore, though I have been seen eating vegetables. I haven't had much time to cook lately, but I enjoy it when I can. I am a sucker for kitchen gadgets. Because of this, I collect pepper mills. Put me in William Sonoma and my eyes glaze over. :) I am fairly picky about what food I will eat. Italian and Chinese are my favorite, along with steaks, shrimp, lobster & burgers. Mexican is my least favorite. I do like fajitas though and can make a decent batch if I take all day to marinate them using my secret recipe. (Yeah, I know fajitas aren't real Mexican food, but that is what I get when I am forced to eat at a Mexican restaurant.) As for alcohol, I don't like beer or wine. I never acquired the taste for them. I do however like frozen drinks, especially strawberry daquiri's. I also like margaritas and fuzzy navels, but I hardly ever drink.
Home Theater is a big interest of mine, as well as music and movies. I have been an avid music fan since I was a kid. While at Texas A&M, I was a DJ for the cable radio station KANM. My show was called Spam-O-Rama and I played classic rock music. My favorite types of music are 80's retro, classic rock and alternative music. Some of my favorite artists and movies are:
Artists: AC/DC, Aerosmith, The Beatles, The Cult, Billy Idol, Led Zeppelin, Metallica, Pearl Jam, Pink Floyd, The Police, The Rolling Stones, Sting, U2
Movies: Addams Family, Arthur, Beauty and the Beast (Disney), The Fugitive, Heavy Metal, Highlander, The Incredibles, Lord of the Rings, The Matrix, Pulp Fiction, Robin Hood, Titanic, Waterworld
I don't watch a lot of live TV anymore since we got TiVo, but I still like watching Friends on DVD. We really enjoy watching Alias now. If you haven't seen it, it is available on DVD also. Sidney Bristow rocks!
Last update: Wednesday, 19-Oct-2005 19:46:06 MDT